Fayette Electrical Service, Inc.
|
1101 Enterprise Drive,
Winchester,
KY
40391
|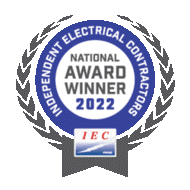 Our Industrial & Commercial Services
CCTV Systems

Fayette Electrical Service, Inc. provides customers with reliable and quality workmanship from certified technicians. In addition to our dependable electrical services, closed-circuit television is a practical, cost-effective solution providing unparalleled protection and security. CCTV not only offers real-time monitoring of both locations and remote sites, but it also serves as a visual deterrent and offers indisputable evidence of an event. For businesses, it's the ideal solution for managing shoplifting, liability, and potential employee theft. Our service team is available 24/7 to support your security needs.
Access Control Systems

Boasting more than four decades of collective experience in the access control business, Fayette Electrical Service, Inc. has the proficiency to construct even the most intricate access control systems. We specialize in commercial-grade security cameras, DVR systems, telephone entry systems, intrusion detection systems, and access control apparatuses, such as keypad entry, biometrics, proximity, and smart cards, as well as physical security needs, such as fencing and barriers. In this time of increased security needs, our reliable team can plan and execute comprehensive access control, offer up-to-date video surveillance, and integrate access control to safeguard your property and energy costs.
Voice, Data, and CATV

At Fayette Electrical Service, Inc., we have an experienced team to help customers with both indoor and outdoor plant requirements. Our staff has a BICSI RCDD (Registered Communications Distribution Designer) and qualified technicians who are BICSI certified, in addition to being certified in a wide range of products. We understand that the telecommunications industry is rapidly advancing, and thus, we strive to provide our customers with the latest products and technologies.
Our technicians are skilled at managing cabling systems ranging from old to the latest (Giga speed) data cables. As more businesses switch to Voice over IP, our professionals can work with CAT 3 station cables (with multipair counts for backbones) and Voice over IP. Earlier, fiber cables were used only for longer distances and backbones. But with rising demand for high speed, it is now becoming common even at desktop levels. Our technicians are certified in different types of installations, from fiber to the desktop, to building-to-building, single-mode, or multi-mode. We are a fully qualified, full-service contractor and take great pride in our expertise.
Fiber Optics

Here at Fayette Electrical Service, Inc., we specialize in installing fiber optic cables with a team of experienced installers and network integration professionals who are always on call. Our rates for fiber optic cabling services are highly competitive. We guarantee a quality product at a price that meets your needs. We also provide end-to-end fiber optic design and build services for Outside Plant (OSP) and commercial fiber optic cable installation services.
Digital Surveillance Systems

One of our goals at Fayette Electrical Service, Inc. is to stand out as the most suitable provider of digital surveillance solutions for all security requirements and provide efficient real-time monitoring, both at the premises and remotely. We also offer clear documentation of the event for increased safety and security. With CCTV technology, customers can enjoy greater security, managers have better tools for preventing shoplifting and liability, and employees are better protected from potential theft issues. As a contractor, we guarantee quality workmanship, certified technicians, and a 24/7 service team for customer support.
Lighting Control

Our team at Fayette Electrical Service, Inc. is committed to leading the electrical design and installation industry. With our remarkable success and expansion, we have built a vast portfolio of services, such as underground and electrical distribution systems, emergency power generation, tenant office finishes, indoor and outdoor lighting systems, dimming and theatrical lighting, fire alarm and security protection systems, fiber optics, computer network wiring communication systems, and more. For commercial and retail projects, we've developed expertise in plan and spec and design/build, consistently meeting project timelines and budgets.
Our seasoned team leverages their creative abilities to provide cost-efficient solutions to every client, no matter the scope of their project. FES is highly qualified to take on lighting control projects for renovation projects, office buildings, schools, shopping centers, and healthcare facilities. We've built an impressive reputation with historical restorations and new building construction. You can always rely on FES to get the job done right.
Electrical Wiring Installation

One of our specialties at Fayette Electrical Service, Inc. is electrical wiring installation for residential and commercial buildings. Our experienced electricians work diligently to ensure that every installation is done safely and efficiently while also meeting all building codes and regulations. Whether you're looking to upgrade your home's electrical system or outfit your business with state-of-the-art technology, we're equipped to handle all of your electrical needs. From the initial planning stages to the final installation, our team is dedicated to delivering top-notch service and reliable results that will exceed your expectations. Trust our professional team for all of your electrical wiring needs.
Computer Networking

Our team at Fayette Electrical Service, Inc. is proud to offer a wide array of solutions for all of your computer networking needs. We can assist with upgrading your LAN for better bandwidth and reliability, or we can even help you design and install a new LAN in a new facility. Furthermore, our team is equipped to handle any hardware computer support requests and can help you identify the best solutions to address your computer issues. We have expertise in implementing the latest technologies, such as Gigabit Ethernet, and experience with routers and switches from Cisco and other major manufacturers.
Thank you for contacting Fayette Electrical Service, Inc.. Someone will be in touch with you as soon as possible.
There was an error submitting the form. Please try again.
Copyright ©
2023
Fayette Electrical Service, Inc., All rights reserved.